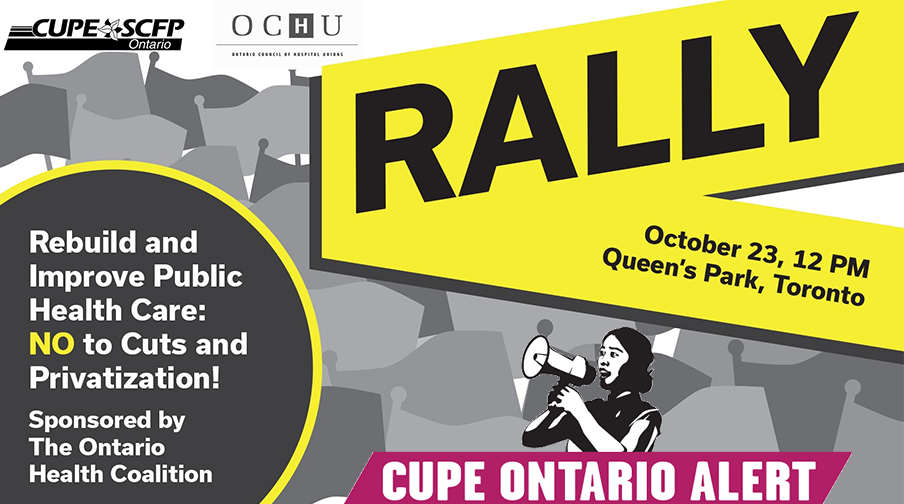 Join hundreds of CUPE members from across the province as we rally with the Ontario Health Coalition to stop cuts to health care.
WHEN: Tuesday, October 23rd
WHERE: Queen's Park, Toronto
A CUPE Ontario bus will be picking up members in Niagara and Hamilton.
Please save your seat by emailing Brittany at secretary@cupe2977.com or by registering online.
In the provincial election Doug Ford promised to "end hallway medicine". That means opening more hospital beds and restoring services that have been cut.
But Premier Doug Ford has surrounded himself with advisors who have a history of cutting services, closing and privatizing hospitals, cutting staff and bringing in privatized U.S.-style health care and user fees amounting to thousands of dollars for patients.
In the short time since the provincial election, Mr. Ford has cut OHIP+ and mental health funding. He has reduced the number of hospital beds that were opened before the election to alleviate crushing hospital overcrowding. He has cut programs and services from community addictions facilities to poverty alleviation programs.
He has planned billions of dollars more in cuts to come if we don't stop them.
We cannot let the government declare a budget "crisis" and renege on their election promises.
We cannot take any more cuts to our vital health care services.
FRED HAHN
President
CUPE Ontario