Labour Day 2021 planning is upon us. We have a basic structure that is likely similar to last year in order to respect the potential social distancing but depending on how things open up.
Anticipate the following will happen:
CARAVAN: Last year was City Hall to the Starlite Drive-In queueing up at 10:30 and leaving at 11am. It may be that again, but things haven't been finalized yet. We know we definitely cannot march in any numbers. The route will follow the same path we established last year, from City Hall down Main Street, continuing into the East End where Main becomes Queenston and turning right on Centennial Parkway up the mountain.
We will have an articulated bus for those who do not have vehicles. Last year the bus joined the caravan at City Hall at 10:30 a.m. and returned at 2 p.m.. Hopefully, this year we will be able to do more ride sharing should social distancing parameters permit. If you do not have your own vehicle and would like to ride the bus up to Drive-In, just show up Labour Day morning. If you are able to bring a folding chair with you, you will have somewhere to sit outside at the Drive-In.
You do NOT have to pre-book a space in the caravan. We will park first come/first serve in the City Hall lower then upper parking lots. If those spots fill up, we will have marshals redirecting people to nearby staging areas.
We have had groups ask if they can haul a trailer with signage or a display of some sort. If your vehicle is street legal on any day of the week, it's good for the caravan. We will be following the rules of the road which means stopping for red lights and other traffic. We will be going about 15-20km/h on our route. Once we turn south onto Centennial Pkwy., we encourage people to follow the regular speed of traffic so we don't bunch up at the left turn onto Green Mountain Rd..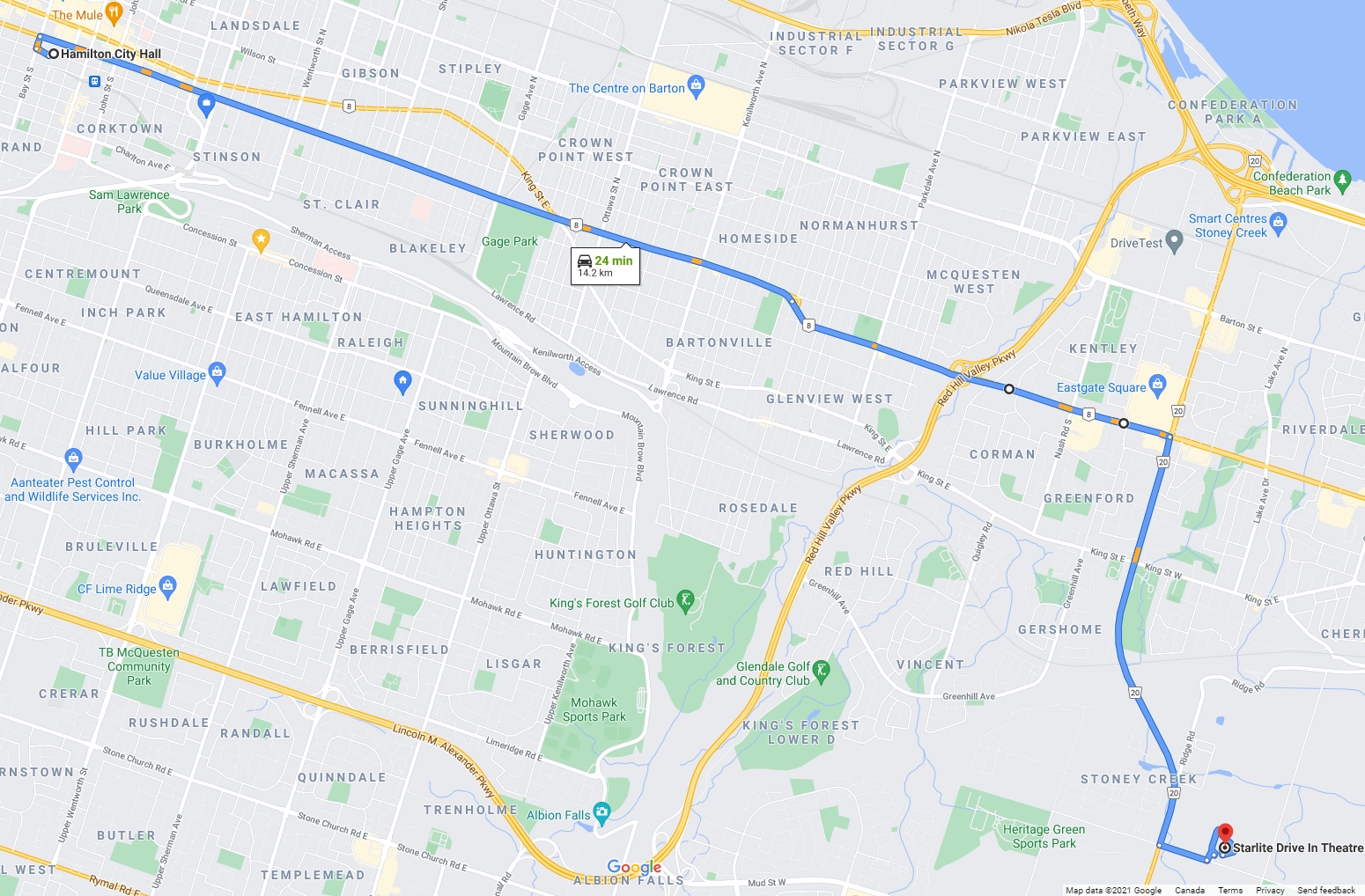 ALL ALLIES, FRIENDS OF LABOUR, AND COALITION PARTNERS ARE WELCOME TO JOIN!
TAILGATE: Last year we had a tailgate party from 11:30-2:00pm at the Starlite Drive-In. Our venue will be the same as it allows for cars on-site and is flexible with our ability to self-regulate group sizes. Also, any public site won't take bookings during the pandemic, so we have to use a privately-owned site.
FOOD and DRINKS: The Starlite Drive-In Concession Stand will be OPEN! Their online food menu is HERE. We cannot guarantee everything on there will be available.
NOTE: The Star-lite has agreed to contribute 15% of profits from all concessions to the United Way Halton/Hamilton. During a normal year, we use the Labour Day BBQ as a United Way fundraiser.
If you want to bring your own pre-prepared food, you certainly can. We strongly discourage people from cooking on site. We are not permitted for this! If you would like to arrange any bulk food purchases for your local in advance, please email me and I'll try to connect you with the management at the drive-in.
LIVE ENTERTAINMENT: We have a live brass band that will be walking around the drive-in during the event playing Mardi Gras Style, upbeat music.
We will have some speeches and greetings at around noon, but (for the most part) the idea of the tailgate will be to have fun!