International Women's Day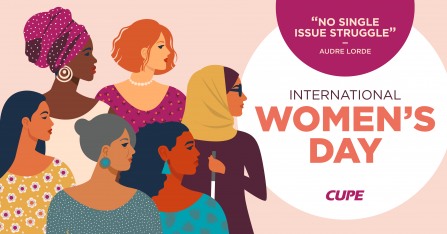 Across the globe and in Canada, women continue to face gender-based violence and barriers to decent work, resulting in lower incomes. They also continue to bear an unequally large share of unpaid caregiving responsibilities. The COVID-19 pandemic has intensified these problems. For marginalized women, the impact of the pandemic has been even more disproportionate. Women who experience racism, homophobia, classism, ableism, transphobia and other forms of discrimination face particular challenges that must be addressed.
As we fight for women's rights, we must recognize that all struggles for human rights and justice are interconnected. To achieve justice for all women, we must dismantle all forms of oppression faced by women.
This International Women's Day, CUPE invites members to take action in the following ways:
Check out:
Spread the word: